AIRPORT staff are set to paralyse Spanish airports with a wave of strikes.
Unions CC.OO, UGT and USO will walk out over 25 days from September 15 after their pay demands aren't met.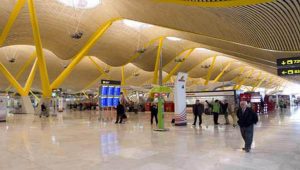 All Spanish airports are set to be hit by the  24-hour walkouts by car park staff, luggage belt-operators security, IT and retail and catering staff.
Workers' representatives issued an ultimatum to airport operators AENA, giving bosses until August 16 to respond.
"There are places of work where employment precariousness is extremely high, jeopardising the safety of operations and the quality of services," a statement from the workers read.
The affected dates are September 15, 17, 22, 24 and 29.
October 1, 6, 11, 15, 27, 30 and 31.
November 3 and 5., December 1, 4, 5, 7, 8, 10 and from 26 to 30 inclusive.
The strikes will interrupt some of Spain's busiest holiday periods, including the puentebank-holiday breaks in October, November and December.
Staff are angry about an 8% cut in their salaries since 2010 and the proposed axing of jobs with AENA and 250 with ENAIRE.