ITS hidden craggy coves fringed with wild grasses and flowers owe more to Cornwall's rugged coastline than Spain's Costa del Sol.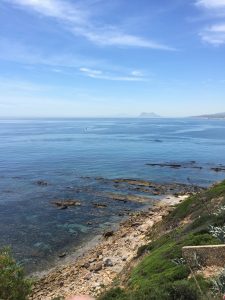 But these are the attractive protected natural beaches of Manilva, a true haven for nature lovers. Worlds away from the heavily commercialised sands of nearby Mijas or Fuengirola, four kilometres of golden playas are being kept wild as an ecological reserve. Endangered western snowy plovers, chameleons and rare species of dune plants are among the flora and fauna in renaissance here since the conservation zone was created in 2011.
Unsurprisingly, eagle-eyed tourists are also beginning to be drawn to the half dozen of unspoilt beaches, that lie below the main N340 coastal road. "These are some of the best beaches on the Costa del Sol and some of the least known," explains Bish Witkowski, owner of local Castles estate agency. Indeed on many weekends outside of July and August, you can practically have the beaches to yourself… and a good number have great chiringuitos to eat on.
On one beach at Punta Chullera, you find the perfect place to explore rock pools and dive into the sea, while at another a handful of tourists sunbathe next to a group of squids drying on a line. But the beaches are just one of the natural draws of Manilva, which is broadly split into three areas; beach-front Sabinillas, port-side Duquesa and the hillside village of Manilva proper. "There is nowhere quite like Manilva", explains local expat councillor Dean Tyler Shelton. "We share a fantastic and unique micro climate nestled between the Sierra Bermeja mountains and the Straits of Gibraltar, there is a great mix of locals and tourists and there are excellent views of the north African coastline."
Avid walkers and mountain bikers can take a break from the seaside to enjoy the salty fresh air and the rolling countryside on one of several trails. Some wind their way up to the pretty white village of Manilva itself, a community that has thrived thanks to its many vineyards established in the 16th century. Unique The must-see Nilva Wine Museum is a mecca for thirsty walkers and wine lovers alike, who come to take tours of its grape plantations and indulge in tastings. It has been backed by eight Michelin starred Basque chef Martin Berasategui, who personally selected Nilva wine for his eponymously-named restaurant's wine list. "He has completely backed our project, sponsored some vines and supports our vision," said Nilva boss Argimiro Martínez Moreno. Those without money to splash on a three course meal with wine at Berasategui's restaurant can pick up a bottle from the museum for as little as €5.
The adjacent Plaza de la Vendimia (Wine Harvest Square) boasts a vibrant mosaic depicting grape-pickers at work. During the first weekend in September, a throng of visitors pile in to help celebrate the annual harvest festival (la vendimia), tread the grapes and toast the fruits of their labour with large glasses of local vino. A hidden oasis lies waiting just a couple of kilometres further north, right on the border with Casares; the Roman baths of Hedionda. Julius Caesar is one of many to have taken advantage of the medicinal sulphur springs gushing from the valley's limestone outcrop. The four cloudy blue pools and arched brickwork offer a fascinating step back in time. The invitingly warm waters are the perfect spot for a late spring picnic under the shade of the surrounding eucalyptus trees. The impressive site is joined by a host of other local Roman archeological gems.
Excavation work in 1989 uncovered the ruins of a former bath house near Plaza de los Banos Romano and a Roman necropolis lies just north of Castillo de Duquesa, another fascinating stop-off. Occupying the site of a former Roman villa, the 18th century edifice was constructed to ward off continuous coastal attacks by pirates. Nowadays, it enjoys a more pacifistic role as the home of two museums, a library and an exhibition room. Visit the archeological museum to see displays of prehistoric artefacts and other curiosities, such as a fourth century hoard of coins. The intriguing fencing museum next door is testament to Manilva's long involvement with the sport and it remains an 'epee centre', as the local fencing club still practice their blade skills in the castillo.
For sport with a more nautical nuance head to Duquesa's yachting marina which bustles with a happy mix of locals and British and German tourists. Taste the globe without budging a centimetre from the waterfront, lined with restaurants touting everything from Chinese stir fry and Indian curries to Italian pizzas, Moroccan cous cous and British fish and chips.
A short walk east along the beachfront will bring you to San Luis de Sabinillas, affectionately known by locals as 'Sabi.' Traditionally a small seafaring village with fisherman's shacks on the beach, it has boomed over the past few decades to be- come a laid back tourist resort with a thriving expat community. Gaze at impressive views of Morocco's Atlas Mountains from its main beach, which fans out invitingly. The beach is the epicentre of Manilva's massive full moon party each August, a dazzling all- night celebration. Inspired by the legendary parties of Thailand's Koh Pha Ngan island, the family friendly event features Chinese sky lanterns and other eye-catching displays.
Manilva's scintillating events calendar brings together locals and visitors the whole year around. There's even a day dedicated to tourists who are celebrated through dance and song. There is no rest for the town, even on a Sunday, when one of Costa del Sol's most fascinating flea markets (Rastro de Sabinillas) rolls into town. Held weekly at the fairground off the Camino de los Baños de la Hedionda, it's a bargain hunter's delight with some 300 stalls selling everything from fruit and veg to antiques, secondhand snips, artisan products, clothing and jewellery.
After a day discovering Manilva's manifold charms, it's time to put your feet up. From lux to low key, the town has lodgings to suit any depth of pocket. Enjoy the lively seafront vibe of the port at Harbour Club Aparthotel Duquesa or live like the lord of the manor at El Molino del Duque, an 18th century mill remodelled into a stunning self-catering hacienda that also serves as an unforgettable setting for weddings and special events. With its authentic Spanish coastal village feel, Sabinillas is a perfect laid back choice for families and couples alike with numerous places to stay. For a day or to stay over, magical Manilva is the perfect antidote to its brasher Costa neighbours. And with natural attractions by the bucket load and spades of authentic charm you won't have to dig deep to discover it all.