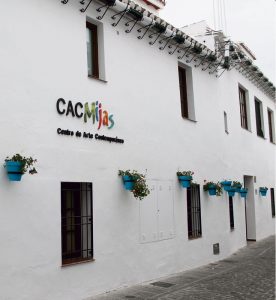 In one way it's your typical whitewashed Andalucian village branded with the characteristics of Spanish culture known throughout the world – flamenco, religious festivals, artwork from iconic Spanish artists and affable locals.
However Mijas likes to go its own way, too. One of the most striking presences in the pueblo is its defiantly rectangular bull ring, a circle squared to save space in this compact town.
Geometry Striking for its elevation as well as its non-conformist geometry, it can be seen from points throughout Mijas, granting stunning views of pastures sweeping down to Costa Fuengirola.
Needless to say, bull fights rarely speckle the events calendar here. Colourful festivities, concerts and theatre productions fill the rest of it.
Semana Santa is a sight to behold, with elaborate floats bedecked with religious figures illuminating the labyrinthine streets.
And you'll find no shortage of concerts taking place during the summer months.
The open-air theatre Auditorio Municipal hosts dance festivals and tribute performances, along with the Spanish Theatre Festival in August where talented actors weave intricate stories under the stars.
Art on a smaller scale appears at the Miniatures Museum of Max Carromato.
Founded 45 years ago by a hypnotist, its painstakingly microscopic artworks range from the astounding to the bizarre: faces carved into chickpeas, the last supper painted onto a grain of rice, fleas dissected and dressed, to name a few.
Picasso For artwork you don't have to squint to see, Cac Mijas Art Gallery has an important Picasso collection and two rooms of temporary exhibitions.
This month from April 7 – 24, the town is celebrating its eighth Open Studio Weekends, giving visitors a chance to meet artists from all over the world on their home turf.
Over these weekends, the painters, sculptors and photographers talk about and sell their work, sharing their own artistic perceptions of this enchanting pueblo the way they live it themselves.