THE classic Spanish hilltop town known from Chelsea to China for its chocolate box charm nails the quaint-small-town vibe at just a stone's throw from the coast.
Discovered by the globe's more bohemian artists and writers in the 1950s and 60s, it was immortalised in Ronald Fraser's 1973 book, The Pueblo, and continues to cast a spell on visitors today.
And it's still improving on perfection, ramping up attractions that go beyond the famous donkey taxis, colourful tourist tuk-tuks and zippy Segway-mounted police.
Mijas is flaunting a €4.7 million renovation which saw the main square transformed beyond recognition, with 70% coming direct from the European kitty.
And the ways to get around are myriad, from the two dozen burro-taxis (€10 on a saddle, €15 in a carriage) to the white stallions bearing Cinderella-style carriages.
Set just up above the square, Tuk-Tuk Spain is coming to the end of its third year and has been a major draw for thrill-seekers and anyone lacking the stamina to scale hilly Mijas.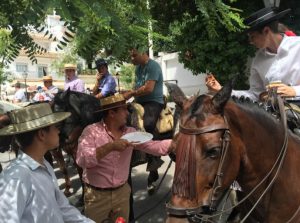 From the burro stables you can see what looks like a massive boulder to most newbies. The Ermita de la Virgen de la Pena is, in fact, an endearingly unpretentious little chapel.
Forget the checked tiles of Notre Dame or the Sagrada Familia's spiky, bejewelled interior.
The hermitage was hollowed out by a single Carmelite monk in the 17th century. Outside, a stone gargoyle spouts water into a grand font.
Inside, the candle light, bumpy floor, six ornate gold benches, fresh flowers and a small exhibition are a real treat.
Leaving the chapel, I see a pair of paleskinned Japanese tourists huddled on a bench hollowed out of the rock, using an umbrella to protect themselves from the late-March deluge.
Al fresco dining is the norm here, with – usually – not a table free near the Mirador del Compas, where you can dine to the musical swoosh of water – provided by the charming fountain, not Handel!
"It may be busy today but Mijas is popular all year round, like diamonds," confides Francisco, a nut seller who has lived in the town all his life.
Rightly, he capitalises on the buzz to flog his delicious candied almonds which give me renewed strength to hit the ground running.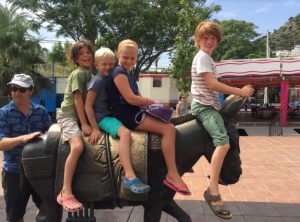 Mijas is designed for its multicultural tourist scene – with around 20,000 foreign residents and many, many more visitors.
Signs appear in English and there is even an impressive machine vending t-shirts, maps and guides after trading hours.
Welcome to the future, I chuckle. And yet the human reception is second to none. Carmen in the Tourist Office, who hails from Valencia, gives me the inside track on just about everything in immaculate English.
In fact she offers maps and info in an incredible 16 languages! Treats include free flamenco in the main square every Wednesday and Saturday at noon, weather permitting, rivalling any you'll see at Sevilla's tobacco factory or in Granada's celebrated caves.
Let's not forget the countryside. There are beautiful hiking trails waiting to be explored. Sign up for 'senderismo' at the tourist office for any one (or all) of three weekly routes.
Multilingual guides lead groups of up to 30 around paths of varying difficulty – an energetic and sociable affair.
"The biggest reason Mijas draws people in is because we are close to the biggest Costa towns yet a typical Andalucian pueblo blanco which people love, complete with donkeys and mountains," explains Carmen.
"While the centre of town is beautifully preserved, we are moving forward and modernising on the outskirts within easy reach of the coast."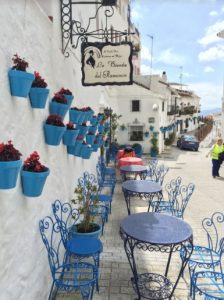 Get a free town walking map that emcompasses the key sites in a leisurely two hour stroll – providing you don't make too many wateringhole stops.
Several museums and plazas are worth a look-in, in particular, the oval-shaped bullring built in 1900 and the main town museum, adorned with speciality esparto products and fabulous photos.
On top of this is the intriguing miniatures museum, squeezed into a conspicuous yellow caravan, as well as the handsome town hall.
Rest your weary legs in the tranquil Plaza de los Siete Canos and poke a nose inside the eighteenth-century Ermita de Nuestra Senora de los Remedios before circuiting back to central Plaza de la Libertad via Calle Larga del Palmar and Calle San Sebastian.
The latter is 'officially' the pueblo's prettiest street and houses much of Canadian businessman Thomas Weller's restaurant empire, including Aroma Café & Secret Garden, Meguinez, and the Mariposa shop (Bana Bana and Latitud 36 are elsewhere).
Softly-spoken Weller can often be seen tearing between his numerous establishments. Bana Bana won Mijas' top tapas award in 2015 for the second year running, thanks to head chef Txelo's daffy duck confit and truffle milhojas with lemon ice cream!
There are tapas haunts and restaurants to suit every taste and budget in Mijas, while the open air auditorium becomes a great concert venue, often hosting tribute acts in the summer.
Every local I meet seems to have lived here their whole life: sun-shrivelled Antonio, who cannot remember his own age, clutches my arm enthusiastically to lead me to the art museum while telling me about how town has changed.
We pass boutiques, delis and a baking dynasty that has been going since 1904, with grandson Francisco now in charge.
It's easy to fall in love with this enchanting pueblo. At a zapateria, fresh-faced shoe-seller Celia recalls how her Liverpool mother met an Andalusian in Ibiza in the 60s, married him, moved to Mijas and never left.
Shoe fetishist Nikki, who has pairs of alpargatas (espadrilles) in more than 30 colours – the sign of a true española – was similarly smitten.
"I went to Liverpool to study languages as my mum did," says the 34-year-old who is a perfect example of the cosmopolitan population in Mijas.
"But I came back here to raise my daughter; it is the most wonderful place."
A cool glass of tinto de verano later and I feel so welcomed by Mijas Pueblo's residents that I'm reluctant to get back in the driving seat and head for the coast to the municipality's 'other half' – Mijas Costa.
But the welcome in La Cala is equally warm – restaurateurs, professionals and locals are all itching to tell me about their slice of paradise by the beach.
Be it a Sauvignon Blanc in Olivia's – run by TOWIE star Elliott Wright – or a pint of Guinness at Biddy Mulligan's – run by Davey from Ireland – there is somewhere for everyone to sit back and unwind.